Wanderful...is Wondeful :-)
Okay I know I have said this before but I will say it again.... I love Close To My Heart Workshop On The Go Kits....they are perfect for busy crafters like me everything you need for layouts in one kit....in comes with double sided pattern paper..card stock... a embellishment kit... washi tape...and a Stamp Set. Here are the layouts I created with my kit....
The kit also comes with layout instructions that gives you a step by step guide to create awesome layouts...but if you rather create your own go for it!!! I also purchased the
Wanderful Complements
...aka Stickers to add additional embellishments to my layouts.
Excuse me I interrupt this awesome kit description to say...yeah pics of my boys in New York on vacation with their Grandmother...a few smiles mostly weird faces that say why do they keep taking pics of me...lol...gotta love them!!!
This is the stamp set that comes with the workshop on the go kit...I love it full size stamp set that you can also use with your
Circuit Artbooking Cartridge
from Close To My Heart. A great addition to my stamp collection :-)
Join my Workshop on the Go Club... $35.00 a month you will receive a kit every month...to sign up email
chelacreates@gmail.com
This months kit is
Wanderful
....
Product Description
Workshops on the Go

®

Wanderful Scrapbooking Kit Contents
1 – My Reflections™ Wanderful Paper Packet (X7191B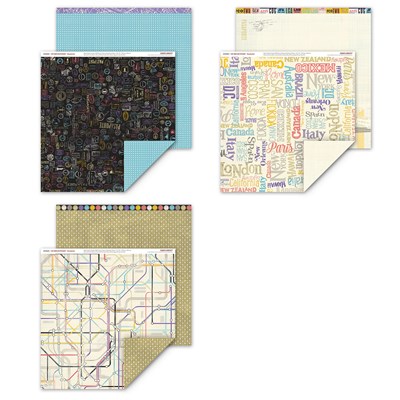 6 – 12" × 12" B&T Duos™ Papers (2 each of 3 double-sided designs)
6 – 12" × 12" Cardstock Sheets (2 Crystal Blue, 2 Flaxen, 1 Colonial White, 1 Gypsy)
1 – My Acrylix
®
Wanderful Workshop Stamp Set (D-size)
3 – Cardstock Sheets (1 Colonial White, 1 Flaxen, 1 Gypsy)
1 – Wanderful Assortment (Z3010)
1 – Black Arrow Washi Tape (Z2003)
1 – Instructional Brochure
Featured Colors: Crystal Blue, Black, Gypsy, Honey, Flaxen, Colonial White
Use the material and instructions in this kit to create two beautiful 2-page layouts.
Stamp images outlined in red coordinate with the Cricut

®

Artbooking collection (Z1906).